Tamassee Faithful Monthly Recurring Gift
Tamassee Faithful donors make a monthly recurring gift to change children's lives at Tamassee. Your gift can begin at $15 a month and grow to as large as your heart for kids. Monthly recurring gifts are convenient for donors, budget friendly, and provide reliable donations for Tamassee. When you enroll, you'll receive a beautiful pin to wear in support of children. For more information, contact the Development Office at 864.944.1390 ext. 109. To enroll today, visit our Donate page  and check "Make this a monthly gift."

Bridge Scholarships
Bridge Scholarship donors "bridge the gap" between hard working families and academic success by supporting Tamassee's educational programs. The need for early learning and afterschool programs is staggering. Too many of the children in Tamassee's service area live in poverty, struggle in class, and face trauma. These children depend on Tamassee's supportive educational programs to succeed in school, heal form life's hurts, and grow into exceptional citizens. Click here for the Bridge Scholarship brochure  and visit our Donate page [insert link to Donate page] to give today!

Ongoing Needs
Gift-in-kind donors provide much needed supplies and materials for children and families at Tamassee. From educational games to STEM technology, from diapers to household care products, these donations touch lives in a personal way and relieve expenses for Tamassee's budget. Visit our Amazon Wish List . For more information, contact us at 864.944.1390 ext. 102, or click here for the Ongoing Needs brochure.

Planned Gifts
Planned gift donors leave a lasting legacy for the children of Tamassee. Adding Tamassee in your estate planning is a wonderful way to impact students for years to come. A bequest from your will or a living trust lets you make a gift of any size to Tamassee DAR School while providing you with estate tax benefits. Contact our Development Officer at 864-944-1390 ext. 107 or tamasseekids@tdarschool.org to learn more.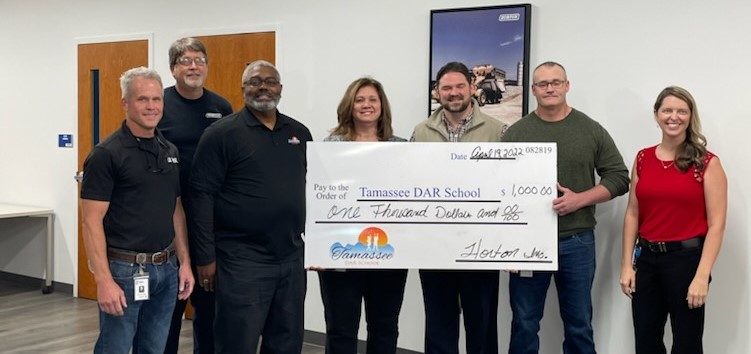 Other Ways To Give
Double or even triple your gift to Tamassee! Many employers offer a dollar for dollar matching gift that will significantly amplify your gift to Tamassee. Click here to find out if your employer is a matching gift company. Click here to explore ways to give while shopping.  Donors can also give securities or real or personal property. Contact our Development Officer at 864-944-1390 ext. 107 to learn more.