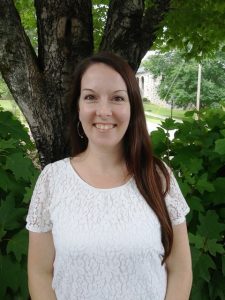 As Tamassee continues the transition to a community learning center dedicated to providing a patriotic education for students in our area, we are happy to welcome Erin Lewis as the new After School Director. Although Ms. Lewis originally hails from Pennsylvania, she is coming to Tamassee by way of Virginia.  Please take this opportunity to get to know her. She'd also love to connect with you and discuss the new after school program launching in August.
Hello, my name is Erin Lewis, and I am a former teacher with a Bachelor's in Secondary Education, a Pennsylvania Teaching Certificate, and a Master's in Nonprofit Management. In the past, I taught middle school Social Studies and English, and I have spent many years working with children of all ages in a variety of afterschool and summer camp programs. My passion for youth development and my experience in the field is what led me to pursue a future in youth program management. I deeply respect the mission of the Tamassee DAR School and all that they have done as an organization over the past century. My decision to become part of the Tamassee team and to lead the Afterschool program was one that I knew I could commit to, since I have the passion and the drive to make this program successful. My professional goal in wanting to establish a comfortable environment for all children, where they can grow academically, become stronger citizens of the community, and participate in activities that will enrich their lives, is closely aligned with the vision of the Tamassee DAR School Afterschool Program. I am very excited to join the school as we move forward into the future!
Being new to South Carolina, I am also excited to get to know the community and work alongside our volunteers, families, and community partners to provide children with a positive and engaging afterschool program. I invite all of you to help make our vision a reality! Thank you!
Tamassee's Afterschool Program launches on Monday, August 10. Call Erin at 864-944-1390 to learn more and pre-enroll your elementary or middle school student today!
Mark your calendars for Saturday, September 19th from 11 a.m. – 2 p.m. to join us for the 1st ever Tamassee BBQ Cook-off event. Erin will be there waiting to speak with you about enrolling your students in the afterschool program and to discuss your participation as a volunteer. For information on the rules of the cook-off and how to register your team to compete, please call Adrian at 864 944 1390 ext. 107.  BBQ plates will be sold for $10/each and there will be plenty of FREE family fun all ages. Music will be provided by Conservation Theory, police and fire equipment will be on display, face painting, water fun, local artisans, and celebrity judges which include Ms. South Carolina will be on hand. Mark your calendars today…you're not gonna want to miss this!