With so many changes that have been experienced by Tamassee DAR School over the past year, this Thanksgiving found us humbly thankful for the basic blessings we enjoy as part of the communities in upstate South Carolina.    As we made plans for the Christmas season, we did so with the joy of welcoming community members to enjoy the beauty and serenity of the Tamassee campus, and with the anticipation of interacting in community hosted events.
We are very excited to ring in the Christmas season on Sunday, November 29th at 6 p.m. by hosting a Lessons & Carols service in the NC Gibson Chapel here on campus.  You are all invited to gather and celebrate the beginning of the Christmas season during this evening worship service.   If you're unfamiliar with this type of service, a series of Bible passages related to the coming of Jesus is read followed by a carol. Prayers are interspersed throughout the service.  Tamassee DAR School is hosting the gathering in partnership with Salem First Baptist Church and Keowee Falls Church of God.  If any of your churches or pastors would like to participate, please have them contact Jon Holland at 864.94.1390 ext. 103. This is a community event, so the more the merrier.
The service will then be followed by a Christmas Tree Lighting on the front lawn of the Chapel with refreshments such as cookies, cider and eggnog served in the Banquet Hall.  What a wonderful way to begin your Christmas season. We hope you will join us!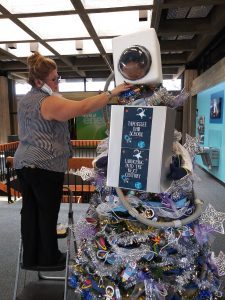 The Duke Festival of Trees will be held virtually this year and all Christmas tree entries can be viewed and voted on  by visiting duke-energy.com/FestivalofTrees.  Voting begins on November 30th and runs through January 8, 2021.  The three trees with the most votes will win $2,500, $1,500 and $1,000 respectively for the non-profit of their choice.  Don't miss Tamassee DAR School's entry which is titled, "Launching Into the Next Century!"
On Sunday, December 5th Tamassee DAR School will also be participating in the Salem Christmas parade with the float entry labeled, "Blasting Into 2021".    This futuristic themed float will feature a space rocket, shooting stars, and a space Santa.  We can't wait and hope to see you there!
December 1st is designated nationally as Giving Tuesday.   Black Friday and Cyber Monday are over and the first Tuesday in December has been set aside as the national day of giving.  This year, please join the movement and consider a monetary donation to the non-profit of your choice.   You can give to Tamassee DAR School at website: www.tdarschool.org/donate.   We appreciate your support.
The local communities have embraced the staff, students and families of Tamassee for over 100 years.  Our campus offers many opportunities for partnering with individuals and organizations to hold events and celebrations together.   As we enter 2021, it is with an excitement to welcome you to enjoy the beauty and facilities offered at the Place of the Sunlight of God.