Along with continuing preparations for the residential recovery program for moms and children which is rolling out in first quarter 2022, campus has been buzzing with fundraising and friend raising events.
The first Sunday of Advent was November 28th and community members opened their Christmas season traditions here in our campus chapel at our second annual "Lessons and Carols" service.   Tamassee CEO Rev. Jon Holland was joined by Pastor Tony Brown, of Salem First Baptist Church, Pastor Randy Keasler, of Cheohee Valley Baptist Church, Pastor Tim Engleman, of  Welcome Wesleyan Church, and Pastor Ty Blunt, of Keowee Falls Church of God. This joint service included scripture readings from the story of Christ's birth followed by traditional Christmas music.
Before the hustle and bustle of gift buying, decorating, and holiday parties began, this was the perfect evening to pause and reflect on the birth of our Savior.  We must extend a special thank you to Mrs. Cheryl Link who filled the air with the sounds of carols as she accompanied the singing of traditional Christmas hymns on the piano.  Our appreciation also goes to the Salem Iris Garden Club for the beautiful new ornaments and for the love they put into every decoration placed on the chapel Angel Tree in time for this service.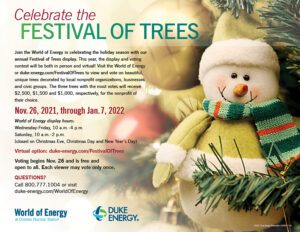 Tamassee's entry into the Duke World of Energy Festival of Christmas Tree is proudly on display, and you can visit it virtually at duke-energy.com/FestivalOfTrees.  Our tree is number 16 and was designed to introduce our new residential recovery program.  We would appreciate your vote. This year, the first place tree will be awarded $2500 which would be a welcome donation to our residential recovery program.  We appreciate your vote and hope you will encourage your friends and families to participate as well.
This past Tuesday was designated as a National Day of Giving (Giving Tuesday). All financial donations received as part of that program were earmarked for internal furnishings for the Grace Cottage.  In the first quarter of 2022, Grace will be the first cottage on campus opened to serve our moms and children who will make it their home.  Through the love of so many friends, over $15,000 of was raised. Your gifts will have a positive impact in the lives of small children as they grow and develop alongside their mothers in a loving, nurturing and healthy relationship.
Are you interested in learning more about our programs and services?  We would be happy to schedule a representative to visit your organization and provide details about all of our programs.  If you are interested in inviting a speaker to an upcoming organizational gathering, please call us at 864.944.1390 ext. 102.