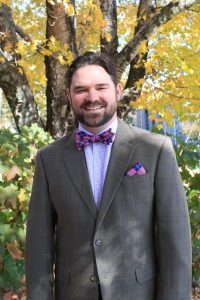 Tamassee DAR School Board of Trustees has named Jon Holland, as the new Chief Executive Officer. Rev. Holland has served in the Interim CEO position since September 2019. Originally hired as the Annual Giving Officer, he has also served as the Chief Administrative Officer for the organization.
Rev. Holland stated:  "It is an honor to lead the exceptional staff of Tamassee DAR School as we continue to enrich the lives of students. I am deeply grateful for the Board of Trustees' leadership and anticipate an exciting future for the School."
Linda Hawkins, Chairman of the Board of Trustees said, "I am confident that the appointment of Jon Holland as CEO will ensure the continued success of the school in the future."
Long time Tamassee DAR School Team Member Pam Towe stated, "I was thrilled to hear of the Boards decision to officially appoint Jon as CEO of Tamassee DAR School.  What a joy it has been to work alongside him during his term as Interim.  His leadership and dedication to the children and staff has been incredible and we are blessed to have him!"
Dawn McGaha, Tamassee Thrift Store Manager said, "We are very blessed to have Jon Holland leading our group through the current transitions and difficult decisions.  He has really led from the heart and tried to look at each child's and staff member's situation and help in anyway that he could.  I look forward to all the great plans that Jon and our board have for our next season of service to the children of this community!  Thank you for being a great leader!"
It is an exciting time for Tamassee DAR School as they enter their second century of service to children and families by expanding educational horizons and guiding exceptional citizens.
Development Officer, Jason Eller, expressed his support for the Board's selection by saying, "Jon's leadership has been exceptional during this time of transition for Tamassee.   We are blessed to have him at the help for our second century of service to children in our community.  With education at our core, we will continue to prepare students academically and guide them toward exceptional citizens that give back to their community."