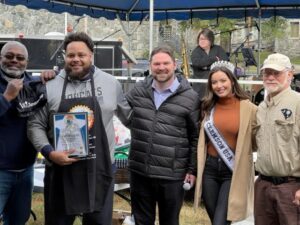 Perfect autumn weather graced us for the second annual BBQ Cook-off, which was held last Saturday on the campus of Tamassee DAR School.   The aroma of fresh BBQ filled the air, along with music from "Magic", the laughter of good fellowship, and the voices of excited children as they participated in the community scavenger hunt, horseback rides and playground fun.  The rumble of cars paraded through campus as part of the car cruise-in, and community emergency equipment arrived and hoisted the American flag high above the festivities.
Our celebrity judges included Al Leroy, director of human relations for the School District of Oconee County, Riley Copans the current Miss Clemson, Rev. WC Honeycutt, Jr., Seneca city councilman and pastor for Ebenezer Baptist Church, Jon Holland, Tamassee CEO and Woo Wagner of Oyo LLC Real Estate.
Congratulations to Big Daddy D's BBQ for extending the reign as Tamassee DAR School BBQ Cook-off champion.   Second place honors went to Sweet Meat BBQ in Spartanburg, and third place honors went to Kings of Clemson BBQ.   We appreciate our celebrity judges for joining us and accepting the daunting task of selecting winners in this year's competition.
Thank you to Just Chillin and Bake it to the Limit for establishing a sales table and providing the sweet treats.
Ticket stubs from those who purchased a BBQ lunch were placed in a basket and automatically entered the door prize drawings for fourteen fabulous baskets that had been created by Tamassee's talented Thrift Store Manager, Dawn McGaha. The final drawing was for a grand prize of a $100 gift card.  Congratulations to everyone who took home a special prize!
This event was made possible through generous funding and contributions by our sponsors and friends of Tamassee – Oyo LLC Real Estate, the town of West Union, Nan Jones, TD Bank, CXG Roxane, Blue Ridge Electric and the city of Walhalla.
As with every event we hold on Tamassee DAR School campus, we say "Thank you" to everyone who volunteered their time and effort to organize the event and provide the best time possible to our guests.
All proceeds from the sale of the BBQ lunches benefit Tamassee DAR School's programs and services.
The first Sunday of Advent is November 28th and you are invited to begin your Christmas season traditions here in our campus chapel with a "Lessons and Carols" service.   Tamassee CEO Rev. Jon Holland will be joined by pastors from area churches. This joint service will include scripture readings from the story of Christ's birth followed by traditional Christmas music.  Afterward, we will light the Tamassee campus Christmas tree and then enjoy refreshments in the banquet hall.  If you are interested in participating in the service, please contact us at 864.944.1390.  Everyone in the community is encouraged to attend at 6 p.m. on November 28th to begin your Christmas season with us.